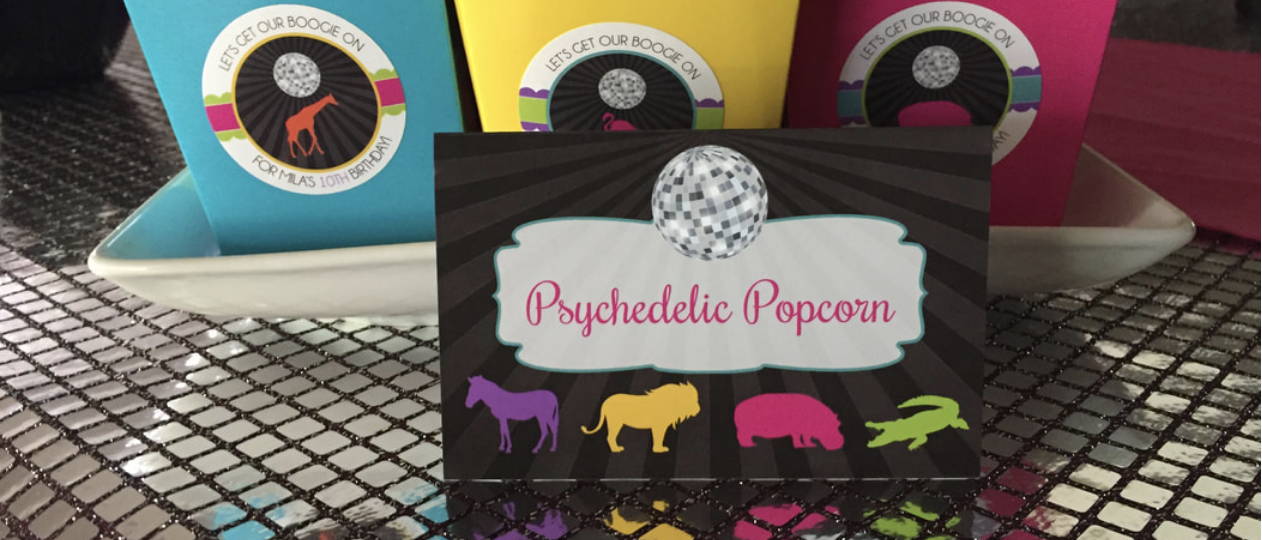 September 24th, 2017


Disco Wild Animals Party
Let's have a Wild time! For Mila's 10th birthday, she wanted a fun disco party with zoo animals, so I created a cool party theme in bright colors and groovy details!

Mia's Party Invitation

 

 

This year I designed the "Donna" party theme with party colors in neon color tones against a black radial background. This was the perfect accent detail to a cool disco party.

 
 

I love to create a colorful entrance to let our guests know where to come. A fun and colorful door sign is the perfect touch to welcome your family and friends with style!
 

I found an amazing disco tablecloth from JoAnn Fabrics® and paired it with an amazing bright pink background.
 

I used bright colors and shiny silver accents to create the ultimate dessert table.
 

I adore simple and easy appetizers that everyone loves. I always include a few healthy options in the mix of all the other sweets and candy. It's nice to have non-sweets too, just in case there are guests with dietary restrictions.
 

For Mila's disco animal party, I designed a theme that included a wide variety of animals, creating a wonderful palate of color to coordinate and really bring the the theme of animals and disco together.
 

I tied the banners with black tulle and bright and colorful curling ribbon for a fun and exciting touch.
 

I love using clever phrases for simple and easy finger foods. It give the feeling of super custom, but the ease of just "open and pour in a bowl" is PRICELESS!
 

We attached a real disco ball in our living room, complete with motorized function and lights. This allowed us to have space for the dance floor, and made the area feel like a Disco party. Groovy!
 

I made a simple rainbow confetti cake, and topped it off with colorful animal cut outs, and a real moving disco ball. I personalized the look with a double sided pennant banner in her name. See pictures below to see it lit up and rotating!
 

I make a fun "Beverage Station" sign for the drink bar, and placed centerpiece sticks behind for a layered table aesthetic.
 

I love to have a separate beverage station with a variety of refreshing beverages. I always include water as an option, to keep everyone hydrated and help those with dietary restrictions that can't have a sweet drink. I also include sprite bottles so you can mix them with the fruit drinks for a "fancy" drink that the kids LOVE!
 

I laminate my beverage cards to add durability and to protect rom the occasional splash of liquid. I finish the label wraps with colorful curling ribbon.
 

Everyone knows I LOVE party straws! I personalized them with Mila's name and age, along with a variety of neon animals and disco balls. The shiny silver straws are the perfect "bling" finishing touch. I used black Solo® cups to add dramatic effect.
 

I used the same cake mix to make the cupcakes, and topped them with simple colorful sugar sprinkles. I let the kids help make them too, which is always a fun activity.
 

Our parties tend to be large, so we always extend the party to back and front yard so they can play and work out the extra "wiggles" that kids can have a party. They loved all the activities and even loved the tire swing. Happy Kids - Happy Party! ;-)
 

I made a wide variety of cupcake toppers each with a different neon animal. I finished the look with metallic silver tulle and colorful curling ribbon! Far Out Man!
 

We turned the living room into a dance floor, and played PlayStation® dance games - so fun!
 

The kids loved dancing and the adult loved watching them compete. It's harder than it looks!
 

Mila's nickname is "Boogie Bear" (hence our business name) so this was an extra special party for her, as she goes by "Boogie" on a regular basis. This party felt Extra special to her, which really melted my heart!
 

I placed a small motorized disco ball in the center of the cake, and added animals on toothpicks. I finished it with a cool pennant cake banner. Turn off the lights, and watch the show!
 

I love framing poster signs. They are simple, easy, and make a grand statement for any party. I bought a simple black frame at Walmart® and took the glass out, to prevent glare on the outside tables.
Centerpiece Stick

 

Even alligators can Boogie!
 

Every year we have a piñata for the party. This year we had a shiny disco ball piñata with bright purple stick. We packed it full of candy, and the kids LOVED it!
 

I make personalized piñata bags for all the kids, and personalize them for the party. There are 13 different animals and color schemes on the bags, so just about everyone had a unique bag!

 
Party Circle Sticker
Happy Birthday Banner

 

I love placing the happy birthday banner inside close to the food and dessert tables. It's a long banner at about 5 feet long, so it fills a larger space nicely.

 

Pennant Cupcake Stick in Candy

 

Adding pennant sticks or cupcake toppers to any candy bowl adds instant decoration.

 
 
 
 

I catered the sandwiches and chips from Jason's Deli®. We included our famous chips and queso! Far Out!

 
 
 
 

I designed several food tent cards at the dessert table and paired them with fun candies, cookies, and sweet treats. I try to keep the dessert table easy, with treats that you simply put in a bowl, and add a clever tent card. It only takes a minute to set up, but your guests will be super impressed with the presentation.

 
 
 

I placed a large disco ball about the dessert table, and added a bunch of colorful curling ribbon to add interest and depth to the table.

 
 
 

We had disco music playing throughout the party before the official dance off competition began. We used a standard YouTube® station with cool tunes to get everyone groovin'.

 
 
 

Once everyone was done eating, we began the dance party competition using fun PlayStation® dance games! We darkened the room with dark curtains, and added a few colorful night club lights to make it feel like a real dance floor!

 
 
 
 
 
 

I dressed up the guest bathroom with cards and signs too!

 
 
 
 

Kids love sweets, and you'll love how easy it is to decorate with simple treats that most will love. Simply put the word "Groovy" in front of any food item to instantly transform it to fit your cool disco party.

 
 

I placed banners both inside and outside to keep the party theme throughout all the spaces.

 
 
 

Peace, Love, and Boogie makes the world go round. We love you sweet girl!

 
 
 

Tent appetizer cards are a great way to provide a unique and clever touch. They are an inexpensive option and sure to impress your guests!

 
 

Guests of all ages show up for our events, so it was important for us to have a good outdoor space for the adults - away from all the lights, and other wild activities. The outdoor back patio was the perfect spot, so I set up comfortable chairs and tables to easily congregate and encourage socialization.  

 
 
 
 
 
 

Alliterations are the best for simple yet clever appetizers. I love how easy it was for "Dancing Queen Doughnuts" as chocolate Hostess® brand doughnuts - Super easy, and so fun!

 
 

WE had an outdoor Photo Booth station, complete with feather boas, groovy sunglasses, party necklace beads, and a silver glitter top hat. Say Cheese!

 
 
 
 
 

I framed a poster sign to let guests know about the props and a "PHOTO BOOTH" sign above.

 
 

I placed several party banners throughout the space, both inside and outside for max effect.

 
 
 
 

We had a WILD time celebrating Mila's 10th birthday. Double digits is more fun when you're GROOVY!

 
 

I used bright pink treat boxes for favors, and added several cool party items including candy, buttons, bubble, pennant flags, and a thank you favor card. I'm a BIG Hershey's® chocolate fan, so I always include Kisses® candies and miniature bars in the mix.

 
 
Treat Box Favors
Mila and her friends

 

Happy 10th Birthday Mila! We had a GROOVY time celebrating your birthday with amazing friends and family. It was Far Out Man!

 
☆       ☆       ☆       ☆     ☆       ☆