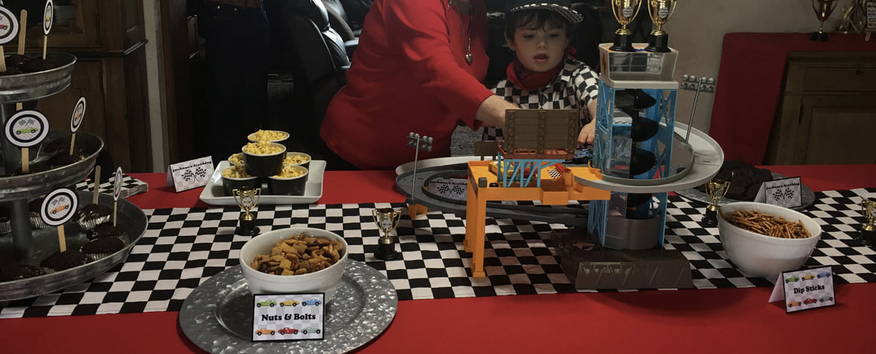 Party Invitation

 

Rev your engines! For Jackson's 6th birthday, I designed a cool antique race car party in cool and bright colors! Jackson is nonverbal (Autism) but he always LOVES anything with wheels and speed. I designed a large selection of cool party accessories that fit with this modern and exciting theme.

 

Dessert Table

 

This year I designed the "Gordon" party theme cool classic cards in bright color tones. Race you there!

 

Welcome Door Sign

 

A fun and colorful welcome banner and door sign are the perfect touch to welcome your family and friends with style. This lets guests know the entrance to the party, and helps mark the event.  

 

Cupcake Toppers

 

I made chocolate cupcakes, chocolate frosting, and finished them with pureed Oreo® topping - So delicious!

 

Small Name & Age Banner

 

"Spare Tires" - Oreos®

 

Beverage Table

 

For the beverage "Refueling Station" we offered 2 drinks in canisters, as well as sodas and water in the cooler. The beverage options: "Gasoline" - Red Punch, "Antifreeze" - Gatorade, and "Octane Booster" for soda - So fun!

 

Straws & Cups

 

"Octane Booster" - Soda Bucket

 

I laminated my beverage card labels for added durability. They fit a variety of widths, from candy canisters, beverage containers, and even large galvanized buckets!

 

"Antifreeze" - Gatorade

 

Party Banner & Bottle Wraps

 

I hung several banners throughout, including a fun small name and age banner to go above the "Beverage Station" station.

 

"Antifreeze" - Gatorade

 

I laminate my beverage cards to add durability and protection from the occasional splash of liquid.

 

Beverage Cup

 

Centerpiece Stick

 

Large Table Sign "Beverage Bar"

 

I used large 12" x 12" door sign for both the beverage and food stations. Its a great and inexpensive way to add instant decoration and instruction to any event.

 

Pennant Party Straws

 

These pennant party straws are water resistant and add lots of decoration to your event. They come fully assembled and personalized for your special day - Yay!

 

"Nuts & Bolts" - Chex Mix®

 

Yellow Race Car Pinata

 

We used a few piñata race cars throughout the space to add a fun three dimensional effect to the spaces.

 

Sister loves her Racing Hat

 
| | |
| --- | --- |
| Tent Appetizer Card - Front | |
Tent Appetizer Card - Back

 

"Oil Change Cups" - Pudding Cups

 

The love the finger foods, and you'll love how easy it is to make clever appetizer with super simple presentation.

 

Photo Booth Poster Sign

 

Centerpiece Sticks

 

We served sandwiches catered by Jason's Deli® - They are the BEST! The delivered everything about an hour before the party started, and the set came with plates, napkins, silverware, and condiments - super easy and delicious!

 

Folded Tent Card Back

 

Happy Birthday Banner

 

For Jackson's cool race car party, I designed several party banners to hang throughout the party space - Some are even double sided!

 
 

Birthday Boy is up to Bat

 

Our tradition continues with our beloved Piñata Event. We cherish our beloved city of San Antonio. This tradition is popular in the city, and we lovingly embrace it. Piñatas are a regular sight at all birthday parties and special events. We try to have one at every single party we host - So fun!

 

Piñata Time!

 
Party Banners

 

I hang several banners inside and outside to create a fun and festive aesthetic throughout the party. Just add simple balloons and curling ribbon to the ends to dress up the banners for maximum effect.

 

Dessert Table Goodies

 

Party Balloons

 

Folded Tent Card

 

Bottle Wraps

 

Water resistant bottle wraps make a great addition to any party or event. They come in 5 designs personalized with honoree's name and age. Great for your "Octane Booster" bucket!

 

Centerpiece Stick

 

I put these amazing centerpiece sticks everywhere! I love how easy it is to dress up a tablescape or dessert table. So colorful and festive - Sure to be a crowd favorite!

 

Accent Banner

 

Jackson loves his motorized race track!

 

I designed several food tent cards at the dessert table and paired them with fun candies, cookies, and sweet treats. :)

 

Beverage "Refueling Station"

 

"Gasoline" - Red Punch

Centerpiece Stick

 

"Dip Sticks" - Pretzel Sticks

 

I used red tablecloths with white checkerboard runners to showcase the "race car" feel. The red bold color helps to hide incidental spills and stains, and work great for a variety of party themes.

 

Laminated Beverage Label Wrap

 

Table Decoration

 

I placed checkered flags on the outdoor tables to add instant decoration to the space. I placed the flags in a Ball® Mason Jar and added black, clear, and grey vase filler pebbles. Looked great and was super easy!

 

Food Table

 

Pinata Decoration

 

This year we had 2 piñatas - one for the kids to destroy at the piñata event, and the other to display above the tables!

 

Pit Crew Popcorn

 

"Jumper Cables" - Red Licorice

 

I love simple, easy, and delicious appetizers and desserts. Just add a clever tent card and you've got an instant hit.

 

The Birthday Boy!

 

Centerpiece Stick

 

"Nitrous Oxide" - Queso Dip

 

No party is complete with out Chips & Queso! We're from Texas y'all!

 

Beverage "Refueling" Station

 

Pit Crew Popcorn

 

Photo Booth Banner

 

For the Photo Booth, I place a name banner above, framed poster sign, and fun black racing flags - so fun!

 

Photo Booth Poster Sign

 

Photo Booth!

 

These racing flags are so much fun! They are great for photo booth, table decoration, flower vase, or anywhere you want to add some cool racing decor.

 

Photo Booth!

 

Treat Boxes for Kids

 

I added candy, flags, trophies, and other fun favors in the treat boxes. They make a great parting gift, and are sure to impress your guests. The boxes arrive with sticker already attached, and come personalized with your honoree's name and age - so fun! Simply fill the box with treats and you're ready to go. Thanks for racing by!

 

Trophy Table Decorations

 

Treat Box Goodies

 

These boxes are great for holding all sorts of goodies! I used double sided favor cards, Hershey's® Miniatures & Kisses® as well as lollipops and a Winner's Medal. I made personalized trophies with Jackson's name om one side and a race car on the other. I also used miniature circle stickers for the small Kisses® candies - so fun!

 

Treat Box Back
The Birthday Boy!

Jackson thanks y'all for making his party a Racing success! Happy 6th Birthday Jackson - We love you so much!

 

☆       ☆       ☆       ☆     ☆       ☆